(This post is by Maya Neville, BMC class of 2016 and the assistant director for our production of King Lear.)
On Fridays, we begin our day at E. M. Stanton working with the eighth grade class. In the afternoon, we come together to reflect on "Successes" and "Challenges" of the day.
Common successes included the directing talent of many Stanton students, their interest in playing games with us, but mainly we were all impressed by the clever and insightful Six Picture Comic Strips the students created.
(Amy adds: Six Picture Comic Strips: A super fun exercise in which a team draws a story in simple images, then performs those images for the rest of the group. The group should be able to clearly interpret the story from the images the team creates–a neat way to illustrate the arc of the story through physical action. Here are a few King Lear oriented examples our students created with the eighth graders at Stanton.)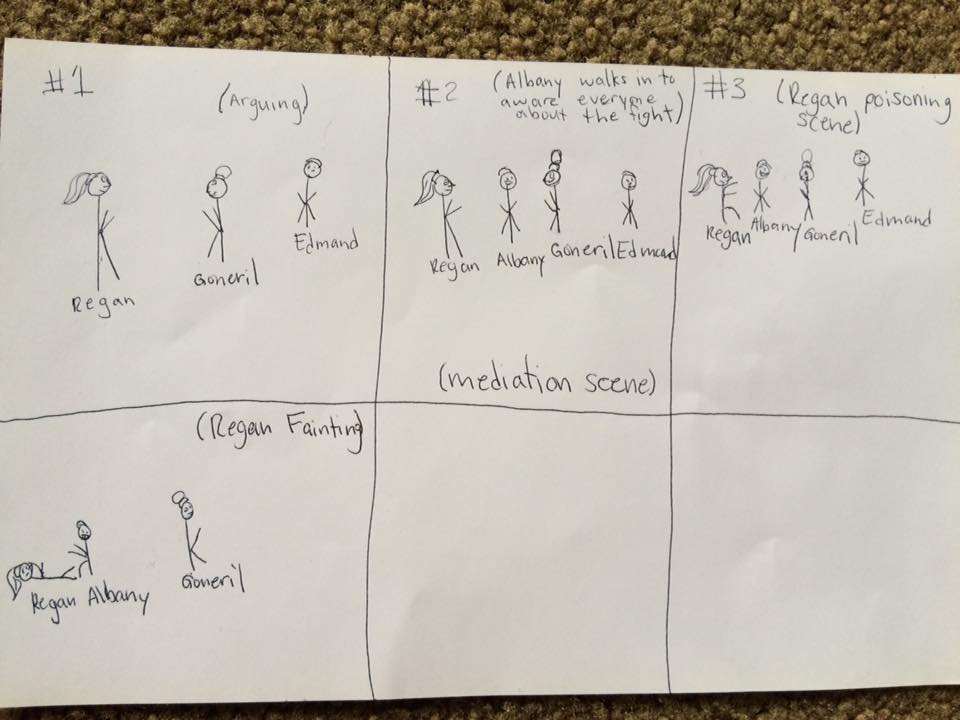 This activity seemed to answer many questions we have in this cross-cultural navigation of theatrical collaboration: how do we empower all students to express their unique perspectives? How do we encourage the engagement of one's full body when playing with actions onstage? The creation of the comic book drawings brought out the exploration of physical bodies as storytellers, as well as engaging multiple forms of creativity and expression.
Challenges included the navigation of the distracting NBA player who visited their classroom that morning. The excitement certainly caused students to be somewhat distant at times, since we got the crashing aftermath of the energetic high. We also were asked by Catharine to come in next week with non-verbal games to play that would include the Stanton students who have trouble with speech.
Lastly, we discussed the inclusion of the "Oops/Ouch" tool in our Bi-College*/Stanton interactions. The way it's used is that when an individual feels hurt by something someone says, they have the opportunity to say "Ouch" to notify others that something hurt them. The group will then take a breath to allow the individual to either address the incident then, or allow it to pass. If an individual says something that they believe to be hurtful, then they have the opportunity to address their comment by saying "Oops." The idea is that feelings cannot be argued against, only heard and acknowledged, and so this tool will allow people to express their feelings safely. We believe that this will be a helpful tool when navigating issues of diversity, in all senses of the word, for all individuals.
*Bi-College: Our standard shorthand for the Bryn Mawr-Haverford bi-college community.