(This post is by Cathy Campo, BMC class of 2019)
Today's scene work was broken up into six separate hour-long parts with different cast members. For the first two hours, Miciah, Roz, Catharine, and Cathy worked on pages 5-8 (in which Lear divides up the kingdom, Goneril and Regan pronounce their love, and Cordelia announces she has "nothing" to say). We played around with given circumstances and even set the scene in a nursing home, which added a gentle intimacy to the tone and made Cordelia extremely unsympathetic. We worked on creating very pregnant pauses through Cordelia and Lear's "nothing"s and discussed how Goneril is an haute-couture wearing gal who knows how to get what she wants. Further, we touched upon the beginnings of assigning actions, such as adding "to caress Lear" and "to honey Lear," to Goneril's love-professing monologue.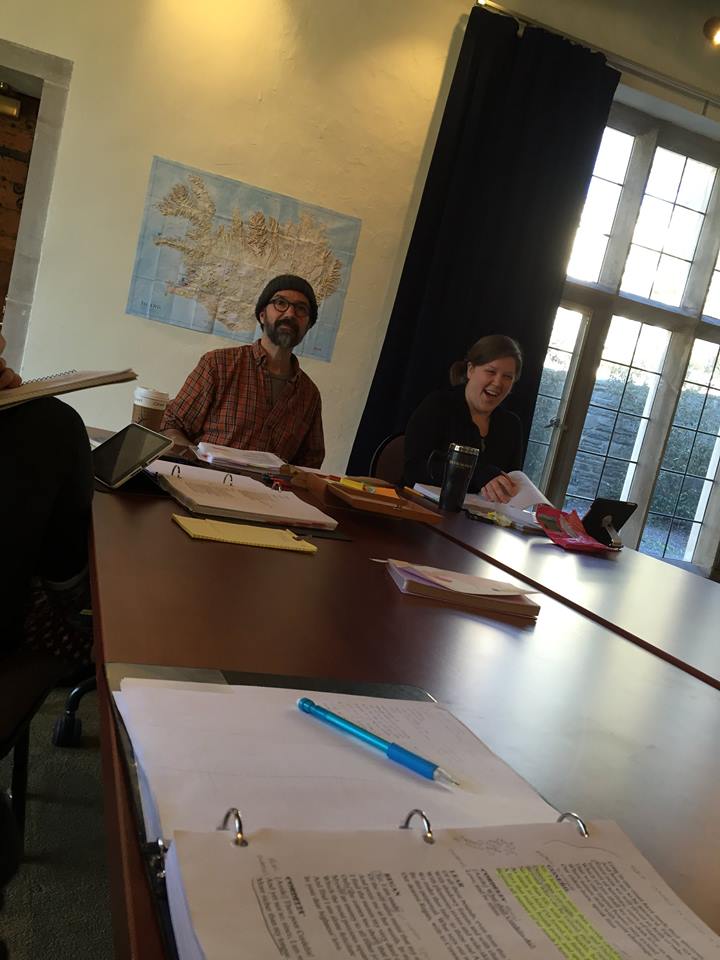 For the next hour, we worked on pages 26-30 in which the Fool and Lear banter and Goneril reprimands Lear for not taming his "insolent retinue" (28). Roz sang some of her lines to "My Country 'Tis of Thee" and Catharine and Mark scored professor points for being clever. All around, productive and fun time. Happy Valentine's Day, folks!