(This post is by Cathy Campo, BMC class of 2019.)
We started today's rehearsal with a check-in in iambic pentameter. For example, mine was "I miss snow. Come back, please. I want to play." Next, Alexandra led us in a short but wonderful yoga session (pictured).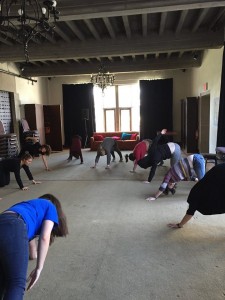 We did a few rounds of the 'chair game' we learned from the NIE Theatre's workshop (pictured), further working on our strategy and making sure that not more than one person was going for the same chair at a time. Mark then joined us, offering his check-in about his brain exploding from thinking in iambic pentameter, and then discussing the physicality of our God's spies. "Where does your God spy live in your body?" He asked. "Be in an engaged body that is not the same as your walking-on-campus body." He advised us to have a physical adjustment when transforming into our spy and told us to be really alive in our senses throughout the entirety of the play, which is something we've been working on a lot through exercises such as "ice walking" and "pranayama."
Following this, we moved on to our scrap metal game from February 8th. We each made our way onto the large tabletop one at a time. We embraced our power, moving to the best place to scan the playing field. Then we placed our respective metal pieces in the most perfect position. Finally, we moved off the table and to any open chair beside the one we had started in. Our final masterpiece of metal objects is pictured.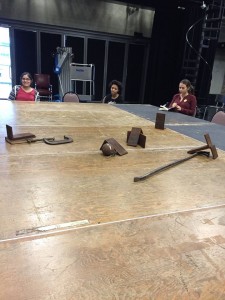 Most interesting to me in this exercise was the moment in which the person made her choice of where to place her object. We really took the time to be in our bodies, taking about 15 or so seconds to think of where to place our metal pieces. Something to consider is that our characters in Lear who make much bigger decisions presumably take a lot more time. The game also caused an interesting juxtaposition from the powerful feeling I had in deciding it was my turn to go and the vulnerability I felt at first of not knowing where to place my metal piece.
Finally, we moved onto some movement improv (which was pretty cool for me because I'm actually in a movement improv class right now). "Use the music as a soundtrack to the soul of your spy/character," advised Mark. We explored questions like, how does our character (both our spy and Lear character(s)) stand? How do they sit? How do they tie their shoes, move around the perimeter of the room, etc.? Together, we interacted and used the space to discover many things about our characters.