(This post is by Miciah Foster, BMC class of 2017.)
There is nothing more capable of encouraging ensemble building than a six hour bus ride along the western coast of Iceland. The landscape was awe-inspiring–with water so blue it implied magic, and with mountains so close I could see the cold, and with waterfalls so simple and so majestic, and with everything so close to melting but not quite. How could Icelanders believe in anything other than fantasy?
On our way, we stopped at a grocery store in order to stock up for our Thoreau-like isolation at The Freezer. (It even sounds like a gothic horror film.) Each student would be responsible for a single meal during our stay (Duhn Duhn Duhhnn). Mark let us loose in the most challenging landscape yet… Bonus, The Icelandic Grocery Store. We assembled our teams and fought our way through language barriers and foreign set ups to the cash register. Mission Accomplished.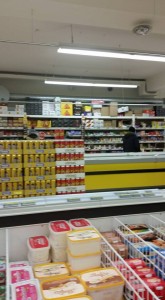 Later, we finally arrived at The Freezer (Duhn Duhn Duhhnn), which, despite all my ominous foreshadowing, is cozy and kind of warm.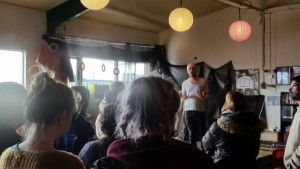 There was plenty of space for us to work and play as well as cook and eat. All of which we did much of. We pieced our way through a thinned Act Three then sat down to a lovely family meal of lentils and salad. We shall see what magic West Iceland and The Freezer have in store for the next four days.